Taylor Swift: You Belong With Me
3:48
Schwierigkeitsgrad :
Einfach
Taylor Swift:
You Belong With Me
Music video by "country-pop" sensation, MTV Video Music Award winner and occasional actress Taylor Swift performing You Belong With Me
Wichtiger Wortschatz
going off
get
cheer captain
bleachers
whatcha
belong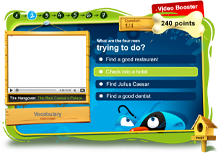 Beginne jetzt Englisch zu lernen!
Ein Video Booster ist eine interaktive Englisch-Übung in 6 Schritten, mit der du englische Vokabeln, Ausdrücke und Grammatik lernen und üben kannst, die die in Video-Clips gezeigt werden.
Free Trial
Kostenloser Test
Um diesen Video Booster spielen zu können, musst du deine 3-tägige kostenlose Probephase aktivieren. Du erhältst dadurch Zugang zu mehr als 1.000 auf Videos basierenden Englischlektionen wie dieser, außerdem zu allen unseren visuellen Wörterbüchern und Spielen, die dir beim Englischlernen helfen.
Video-Vorschau
Taylor Swift: You Belong With Me
47 Kommentare